Baby Eggplants and Tomatoes Stew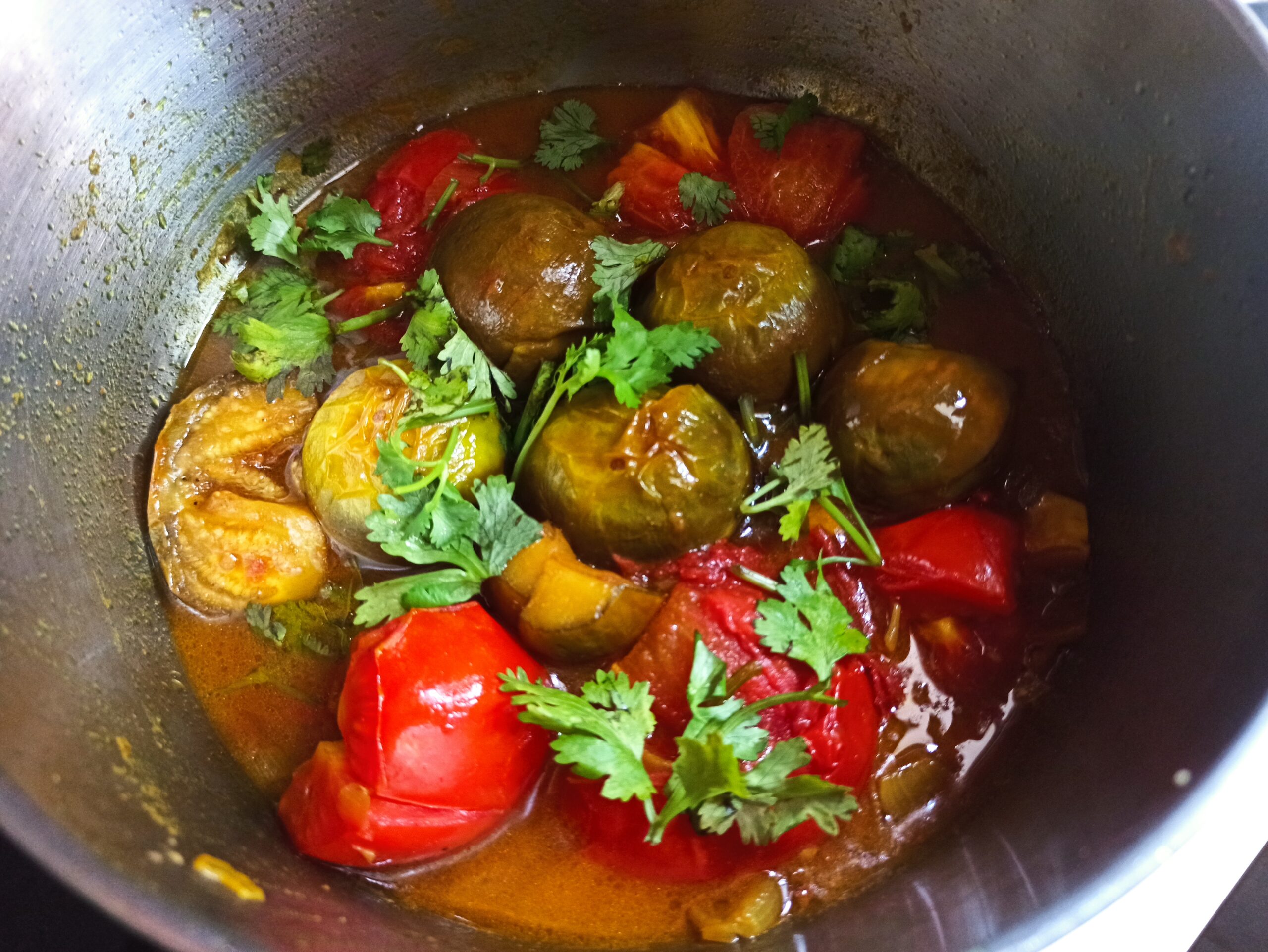 25 minutes
medium
2 servings
This recipe is a very heart-warming traditional Burmese dish adopted in a vegan version. You can serve it with rice or flatbread, couscous or on top of your pasta. Traditionally, we enjoy this with steamed white rice.
Adjust Servings
4

pieces of

Baby Eggplants (Round Eggplants)

2

pieces of

medium Tomatoes

1

piece of

medium Onion

4

cloves of

Garlic

1

inch of

Ginger

4

tablespoon of

Sunflower Oil (or any)

1/6

teaspoon of

Salt

A little bit of

Black Pepper

A little bit of

Rosemary Herb or Parsley
Topping
A little bit of

chopped

Spring Onion
Directions
1.
Add oil into the pan and heat the oil.
2.
Add a mixture of onion, garlic and ginger to the oil when the oil is heated.
3.
Stir the mixture and sprinkle a little bit of Turmeric powder for aroma and color of the dish.
4.
Cut the heads of mini eggplants, cut + sign on half and place at the center of the pot or pan.
5.
Cover the pot/pan for 5 minutes with medium heat.
6.
When the eggplants started to cook and see the softer skin and flesh inside, cut medium tomatoes in the same way as we did to eggplants in + sign. Place the eggplants in the pot with eggplants together.
7.
Sprinkle salt and black pepper on tomatoes and eggplants, cover the pot with a lid for 5-10 mins over medium heat.
8.
You can turn off the heat when the vegetables are cooked to your desired texture.
9.
You can chop some spring onion or parsley to top to finish your dish or you can sprinkle some rosemary herb for dressing and aroma.
Notes
If you are someone who likes stew with more liquid, you need to add water a bit while cooking tomatoes and eggplants.