Bean Vermicelli Salad (Glass Noodles Salad)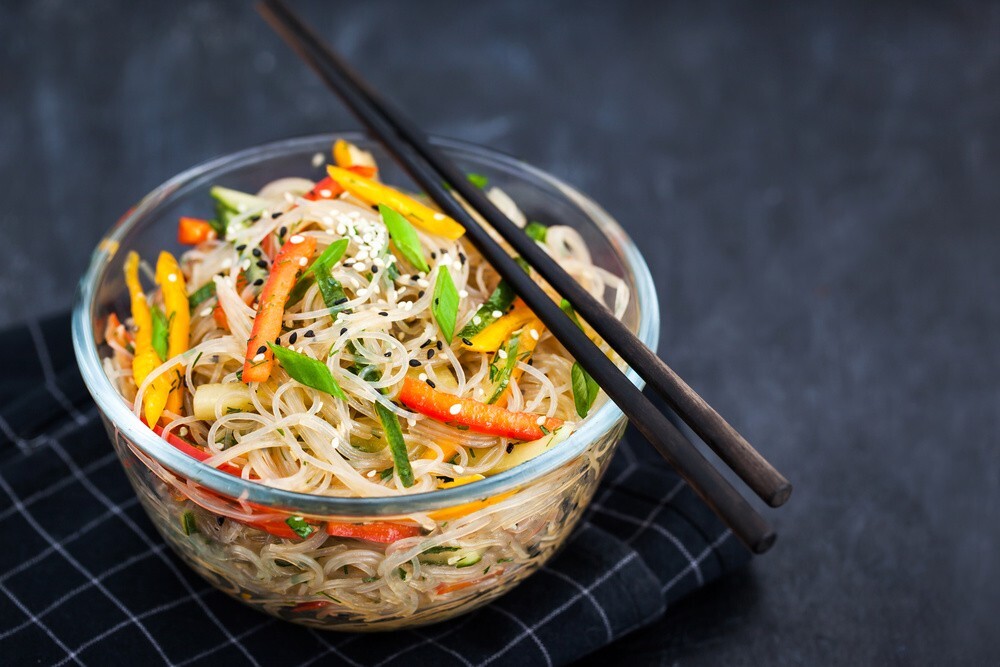 20 minutes
super easy
2 servings
Most Southeast Asians are very familiar with this food, Bean Vermicelli Salad, which we also called Glass Noodles Salad. This type of noodle is clear elastic noodles which are made from bean starch. It is a very healthy choice as Gluten-Free, Low-Carbs, Low-Fat, and Easy-to-Digest. It does not have much flavor of its own, so, it is very easy to pair with any kind of ingredients and create a lovely meal.
I see how Burmese, Thais, and Chinese love this noodles salad. We like to make sweet, sour, and spicy noodles salad with different ingredients. In this recipe, I just made this Glass Noodles Salad with simple and few ingredients like Yellow Bell Pepper, Red Bell Pepper, and Chives. It tasted so healthy and comforting also. I would like you to try this and let me know your experience of making and how you enjoy this.
Adjust Servings
80

gram of

dry Bean Vermicelli

40

gram of

Red Bell Pepper

40

gram of

Yellow Bell Pepper

10

gram of

Chives

3

tablespoons of

Soy Sauce

2

tablespoons of

Rice Vinegar

1

tablespoons of

Brown Sugar

1

tablespoons of

Sesame Oil

1

tablespoon of

roasted Black Sesame

1

tablespoon of

roasted White Sesame

1

tablespoon of

shredded Seaweed
Directions
1.
Preparation 1
Soak the noodles in water for about 10-15 minutes. When it gets soft and increased, cut the noodles in small length, drain the water out.
2.
Preparation 2
Chop the Onion, soak in water for 10 mins and drain the water out. Chop the Yellow Bell Pepper, Red Bell Pepper and Chives.
3.
Preparation 3
Mix mentioned ingredients; Sesame Oil, Soy Sauce, Brown Sugar, and Rice Vinegar in a small bowl as dressing for salad.
4.
Mixing
Add Noodles, chopped vegetables and mixed dressing all in a big bowl to mix well.
5.
Serving
Serve mixed noodles salad in bowls, topped with sesames and shredded seaweed.