Trio Stew ( Oil-Free )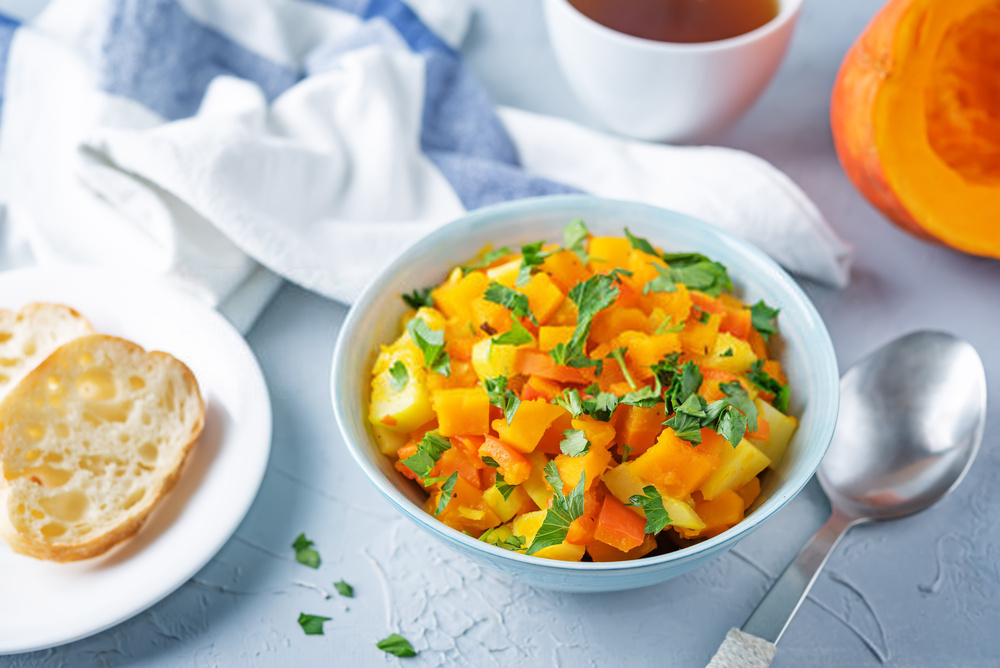 45 minutes
super easy
4 servings
Trio Stew is a very healthy and heart-warming meal you can have for your body and mind. You would feel pleased in the soul with sweetness from the combo of Pumpkin, Carrot, and Potato. Their colors alone would charm you, their flavors would warm your heart, and the whole meal would boost your health.
The perfect meal when you are on the whole-food or clean or low-calorie diet. Still, this is a healthy meal even when you are not on any diet and not on any fitness goal. Just simply a healthy and lovely meal for everyone.
Perfect to pair with sourdough bread or wholewheat bread. But still lovely to serve on top of rice or with rice as well.
Adjust Servings
2

medium

Potatoes

1

big

Carrot

300-400

gram of

Pumpkin

30

gram of

Coriander

3

cloves of

Garlic

1/4

teaspoon of

Pink Salt (or any Salt)
Directions
1.
Preparation
1. Crush the Garlic cloves. 2. Wash, peel off and dice the Carrot. 3. Wash, peel off and dice the Potato. 4. Wash, peel off and dice the Pumpkin 5. Wash and chop the Coriander.
2.
Cooking
Boil 2 cups of water in the pot and let it simmer.
3.
Add the crushed Garlic into the pot of boiling water.
4.
After 5 minutes, add all the diced Potato, Carrot and Pumpkin. Cover the pot with lid.
5.
After 15 minutes, remove the lid and let the water drain a bit more.
6.
If water is drained and vegetables are not cooked yet, add a cup of water and boil them more until everything is cooked well.
7.
After vegetables are cooked, serve in bowl and top with chopped Coriander.