Kai-Lan and Mushroom Stirfry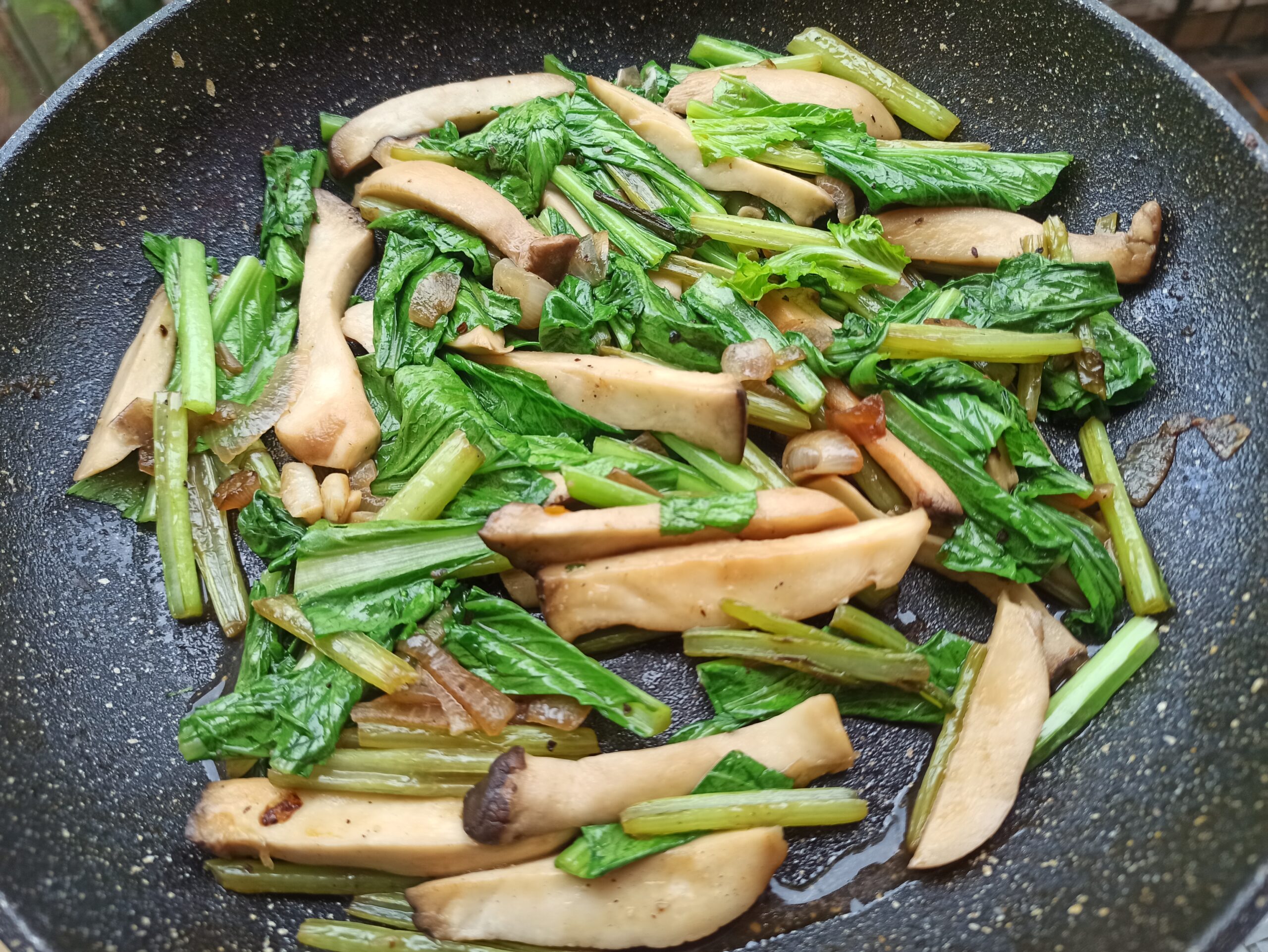 25 minutes
easy
2 servings
Kai-Lan ( Gai-Lan ), Chinese Kale or Chinese Broccoli is one of the most-eaten green vegetables in some Asia in noodles soups and stir-fries. Its firm and juicy stems make it easier to cook and feature in our meals. It has a slightly bitter flavor like Broccoli which is perfect to pair with sweet vegetables or tone down flavors in dishes.
I try to eat Kai-Lan often because it is nutrient-dense, and we get vitamins A, C, iron, antioxidants, and minerals from it. Burmese people eat Kai-Lan as stir-fry a lot from where I was born, Yangon. I have also seen them boiled and put as side dishes or in noodles in the North and East part of Burma (Myanmar).
This recipe is simple stir-fry I paired with King Oyster Mushrooms. I also sweetened the dish with thick vegan mushroom sauce.
Adjust Servings
250

gram of

Kai-Lan

400

gram of

King Oyster Mushroom

1

medium

Onion

3

tablespoons of

Mushroom Sauce/ Soy Sauce (Thick/Thin)

A bit of

White Pepper

1

table spoon of

Oil
Directions
1.
Preparation
Wash Kai-Lan, Separate the stems and leaves in different container and drain excess water.
2.
Wash and slice the mushroom. I then soak in salt water for few minutes and rinse with water again to clean it better.
4.
Cooking
Heat the oil in the pan.
5.
Add chopped onion when the oil is heated. Stir and fry them until they get soften.
6.
Add only stems of Kai-Lan and fry them for about 5-10 minutes in medium-high heat.
7.
When the stems are cooked, add the leaves of Kai-Lan and stir-fry for about 5 minutes.
8.
When leaves get softer, add sliced mushroom and mushroom sauce to stir-fry all together for another 5 minutes in low-medium heat.
9.
Sprinkle white pepper powder 1 minute before you will switch off the stove.
Notes
After that, you can top this delicious stir-fry on top of hot steamed rice and enjoy.